Ecuador
The Herald Brass was privileged to travel to Ecuador in 2008 for a Christmas Concert Tour. They arrived in Guayaquil on Saturday, November 29 for the 8 day concert series. It was a whirlwind concert schedule with 16 concerts (or mini concerts) in 8 days.



Sunday, November 30 - This morning we played 2 concerts during the morning worship services at the Iglesia Alianza Samborondón. The group was well received and our hosts told us that this was their largest attendance so far for a Sunday.
Monday, December 1 - Today we performed in the courtyard of a gated community, Bosques de Castilla. Over 50 people were in attendance. This video shows one song with some of our audience participating.

---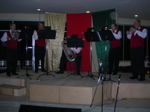 Tuesday, December 2 - One of our major concerts was scheduled for this evening. We spent the day helping our hosts set up the social area around the pool at the Vista Sol Community. Approximately 180 people enjoyed an evening of brass music followed by hot chocolate and Christmas bread.


God Rest Ye Merry Gentlemen
---
Wednesday, December 3 - This morning, we played a concert at a home for the elderly. They really enjoyed the music and clapped along with many of the songs. In the evening, it was a different crowd. We were at the UEES (Holy Spirit University). About 75 university students and professors came to hear the Christmas music.


---
Thursday, Dec. 5 - Both of our concerts were outside today. The first one was playing for the lunch crowd outside Anderson's restaurant in the Samborondón Plaza. The Samborondón Alliance church has it's office in this building.


In the evening, we were the featured musical group outside of the Bocca Commercial Center. Each Thursday in December, they present live music for those eating at the many restaurants. A video feed even showed the group on a large screen TV in another section of the mall.


---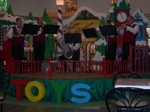 Friday, December 5 - This was our busiest day. First, we played 2 concerts at the American School. Over 700 kids attended the 2 concerts. We were able to speak without a translator since all the kids speak English. In the early evening, we played inside a large mall (Rio Centro). We finished the evening with a short concert at an outside mall.


---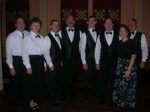 Saturday, December 6 - Our concert today was an important cultural event at the Parque Histórico in Guayaquil. We performed in an old historical building (with great acoustics) and were well received. It was a wonderful end to a great trip.


Return from Ecuador to Herald Brass

Return to Proclaiming Christ Ministries (Home)