Concert Schedule
This is a current Herald Brass concert schedule. Some concerts are closed to the general public as the group has been booked to play for a private event. If the concert is open to the public it will be noted below.


2013 Concerts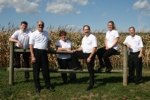 June 8 - The Herald Brass will be at The Gathering Place in Mt. Joy for a patriotic concert.
June 29 - July 8 - The Herald Brass will be traveling to New England where they will be able to spread a little patriotic flare to the festivities during the Fourth of July holidays.
---
November 29 - December 9 - The Herald Brass will be returning to Uruguay to join the Beers in their ministry.


Return from Concert Schedule to Herald Brass
Return to Proclaiming Christ Ministries (Home)